Are you trying to grasp tips on how to fill out a job application online? See our tips so that you can get the most visibility for your online application.
When it comes to applying for a new job, it can be pretty daunting. We've been there, many times. Whether it's your first job or you are already well into your career you can always find ways to improve.
A lot of effort goes into a job application and sometimes it can be hard to create an outstanding application that gets you noticed. From your resume to the interview preparation, it can be overwhelming.
Job Application Tips and Tricks
Here are 6 tips for a successful job application so that you can get the most visibility for your online application.
Tips for Filling Out a Job Application:
Here are common questions people ask about when filling out a job application:
What are good things to put on a job application? You'll want to present your skills. The position description that a company advertises can give you a solid idea of exactly what skills the employer wants. Read them carefully and think about how your abilities match the employer's needs. When you describe your skills on the job application, avoid trite and overworked phrases.
How do you stand out on a job application? You need to know the traits that will impress the employer, ensure your resume matches the job, follow-up (twice), speed your replies, and prepare for phone interviews.
What color pen should be used when filling out a job application? You will want to use black pens because they contrast better with the documents you are writing on which are typically lighter in color. Black is also more professional looking and is used for legal documents and form-filling. Also, scanners prefer blue ink to blue ink.
What are some skills to include in a job application? You'll want to include your commercial awareness, communication, teamwork, problem-solving, leadership, and organizational skills.
What should not be on a job application? You should never include gender, race, religion, or national origin on a job application. Also, the employer should never ask about these traits on the application or during the interview.
Here are some other tips to keep in mind during the job application process:
1. Never Settle
When you're looking for a new job (especially if you're desperate to get out of your current one), you may start to look at jobs that are way below your skill set.
Believes us when we say… do not settle! The only time you would settle is if you absolutely have to. But even then, if you're in a job you've 'settled' with, you should still be looking elsewhere for something you deserve.
Take your time to figure out what industry you want to be in, what skills you have (you probably have more than you think), what salary you want, and where you see your career going. Make sure you know what's important to you when it comes to choosing an employer and read the job descriptions carefully.
The best way to go about this is by journaling it out; outline your skills, attributes, and what fields interest you. This will help you narrow down your job hunt.
2. Write a Powerful Resume
Okay, so what makes a powerful resume? How can you stand out to employers? Firstly, it's a great idea to find out if your employer uses an Applicant Tracking System (ATS). This is a type of software that scans your resume for keywords before passing it onto an actual human being. If you need an ATS resume, you'll need to change up the format.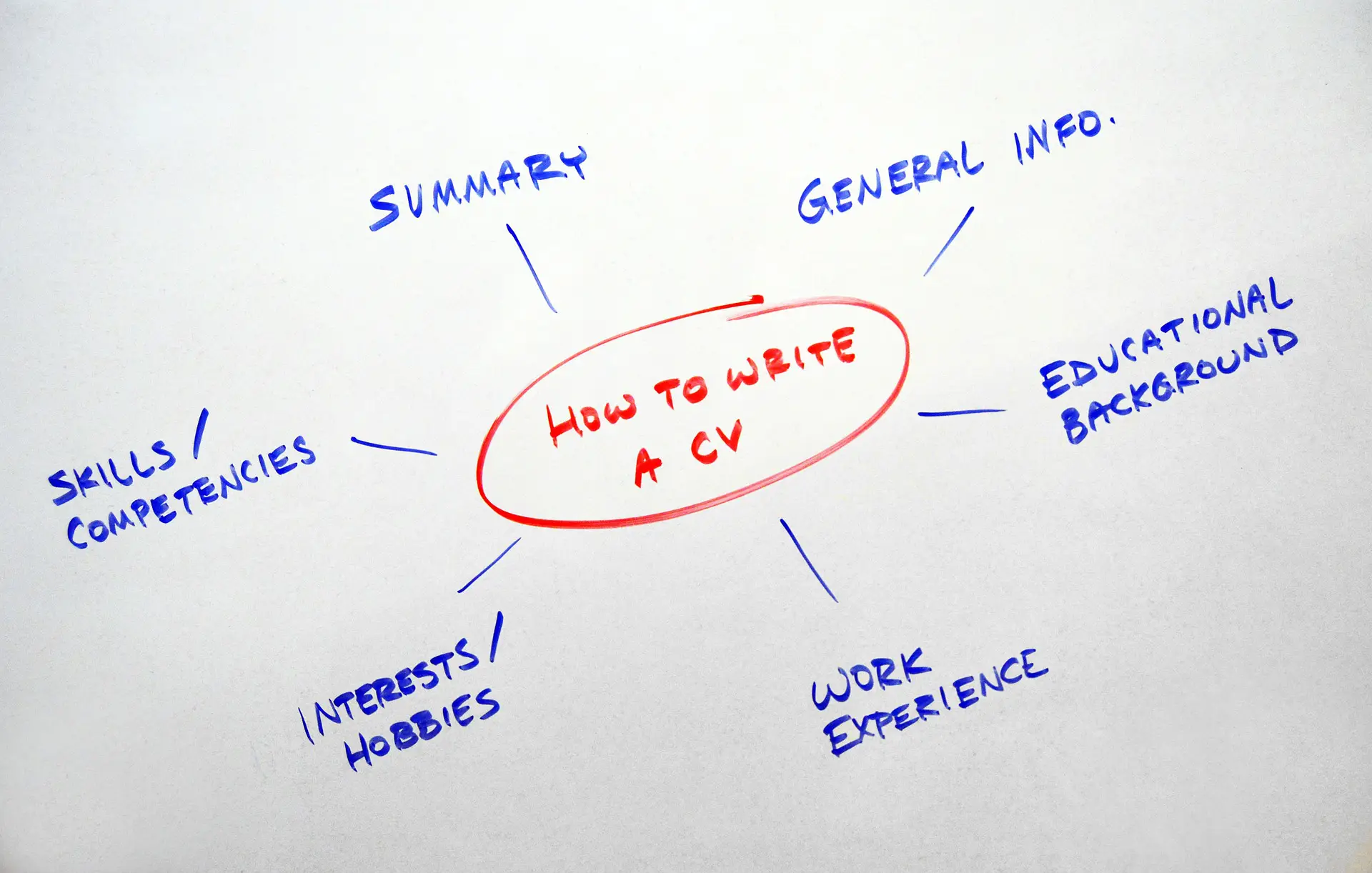 Keywords
Firstly, use keywords! Assess the job description and use those keywords in your resume. You may have to tailor each resume to a specific job description, but that's what will help your resume stand out. (We actually recommend tailoring for each job… but sometimes you may not have enough time.)
Structure and Proofread
Secondly, format, structure and proofread! No employer likes seeing spelling or grammatical mistakes, so make sure to give it to someone else to glance over. The structure of your resume should be easy to read. If you're a recent graduate, put your education first, list your skills, and then your professional experience. If you're a few years out of uni, you may want to put your professional experience first. Employers take on average about 8 seconds to scan your resume, so you want to ensure the first half of your page entices them to read more. It's all about the first impression.
Personal Branding
You may want to add your own personal branding to your resume as well. This may include a logo, a picture (if the job description fits the bill), or other images. For example, if you were applying for a graphic design job, show your skills in a creative way on your resume! There are no rules (of course unless you find out the company uses an ATS).
Simple, straight to the point, and easy to follow = success.
3. Write a Strategic Cover Letter
Your cover letter is your pitch! You REALLY want to make it a good one. Again, you want to use keywords from the job description in the body of your letter. Make sure you're addressing all the criteria they're looking for (all the criteria you're qualified for that is), and explain how you've developed those skills. If you can add statistics or how you've improved any systems, mention it! For example, hiring professionals in business would love to see if you've increased sales by 8% in Q1.
If you can, find out who is dealing with the application and address it to them. This makes your cover letter more personal and will show you've gone beyond the application to find out who manages it.
4. Research the Company
You never know when you're going to get that first phone interview in response to your application. If you've applied to numerous jobs, it can sometimes be hard to track what you've applied for (we're saying this from experience). There have definitely been a few times we've been caught out and have had to BS our way through a phone interview because we couldn't remember what we applied for… the struggle is real. Make sure this doesn't happen to you. Most hiring professionals can see right through it and know you aren't prepared.
The best way to be prepared is to keep a note of all the jobs you've applied for and a little blurb about that company and why you chose it. When you then get that phone interview and the recruiter asks, 'so, why did you choose company XYZ?', you'll have an amazing answer ready to go!
5. Face-to-Face Interview Prep
This is the BIG one! This is one of the last times to create a lasting positive impression. Before heading in here are a few things you'll want to ensure you're covered:
Company Research
What do they stand for? What are their core values? Their mission statement? Are they involved in any charity work? Choose something that takes your interest and talk about it in your interview.
Know Your Resume
They're going to have your resume in front of them so you need to know your resume like the back of your hand. The WORST thing you could possibly do is lie, so make sure there are no fibs in your resume or cover letter that could get you in trouble during the interview.
Practice
There are definitely textbook interview questions that employers use and you're bound to hear some. Write down your answers to a few common questions and then speak it out loud. The more you talk to yourself (it's not weird, don't worry), the better prepared you'll be.
Equip Yourself with Questions to Ask
One of our favorite parts of the interview is when we get to finally ask questions. Suddenly the tables turn and you can take complete control of the interview. This is YOUR chance to find out whether or not YOU want to work there. It also gives you the chance to sneak in any other valuable things you think the interviewer needs to know about you. If you need some unique questions to ask for an interview, we've got you covered! You can get more information here.
Dress to Impress
This is SO important. You should dress like you already have the job. You want to be professional, clean, and tailored. Don't be afraid though to pop a little bit of your personality into your outfit. Go with that colored blazer instead of the generic black if you've got it. Go with that awesome red dress you have or navy blue suit. Stand out! And the interviewer will be sure to remember you.
6. Send a Follow-Up Email
Always send a follow-up email. This tells the employer you're definitely interested and keen for the role. Thank them for their time and that it was a pleasure to meet them. A thank-you note can go a long way.
Ready to Submit Applications? Go Get It!
Yes, job applications take a lot of effort and hard work. But if it's your dream job you're going after, it's totally worth it. What are some of your top tips when it comes to applying for a job? Let us know in the comments below!
Want free money?
Robinhood is a free investing app for your phone. I really mean free all around – free to join and they don't charge any fees to buy or sell the stock. You can get a share of stock like Apple, Ford, or Sprint for free when you join through this link. The value of the free share may be anywhere between $2.50 and $200 and fluctuates based on market movements. You've got nothing to lose.